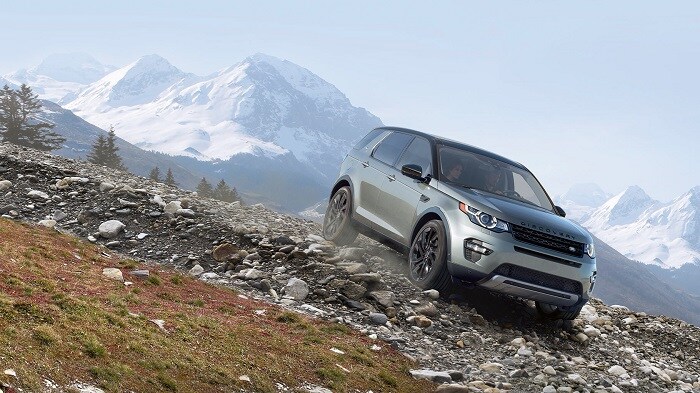 The lineup of Land Rover and Range Rover SUVs is a diverse one, despite the fact that the entire range is made up solely of SUV models. While here at Land Rover Orlando, we offer plenty of new Range Rover SUVs for sale we know that finding the right one for you can be a little tricky because of the many options. So we decided to break it down and go over a few of our most popular options.
2017 Land Rover Discovery
The 2017 Land Rover Discovery is one of the best SUVs for all-terrain driving. That means that it's as good off-road as it is on-road. The fact that this SUV caters equally to all types of driving is a bonus and is partly why it's so popular. We find it a perfect match for drivers who love to explore the outdoors on the weekends but need something comfortable and luxurious for the work week. From the office to the store to date night, it's great all around. It comes standard with a 3.0-liter V6 engine that puts out 340 horsepower and 332 lb-ft of torque.
2017 Range Rover Sport
The 2017 Range Rover Sport is probably the SUV you picture in your mind when you think of a Range Rover SUV. It's big, stylish, and as luxurious as it is powerful. While it drives and feels like a sedan it operates on a unique four-wheel-drive system that makes it a beast off-road. We think it's perfect for those who take their adventures seriously and need something that can get you through rough weather and rougher terrain. The standard engine is a 3.0-liter V6 engine that puts out 340 horsepower and 332 lb-ft of torque. It also comes with a slew of tech and safety features to keep you safe and help you navigate any situation.
2017 Land Rover Discovery Sport
As far as compact SUVs go, the 2017 Land Rover Discovery Sport is the gold standard. Its smaller size and sporty nature is perfect for handling city streets. Luxury features, roomy interior, and a load of specs make it fun and engaging at every turn. We like it for drivers who regularly have passengers but want something more compact. It's also great for a weekend adventure but won't ever feel clunky or cumbersome during your daily driving. It comes with a 2.0-liter four-cylinder engine that puts out 240 horsepower and 250 lb-ft of torque.
If any of these models have caught your eye, head over to our Range Rover dealership in Orlando, FL and take it for a test drive. We are conveniently located at 199 South Lake Destiny road and look forward to serving you soon.