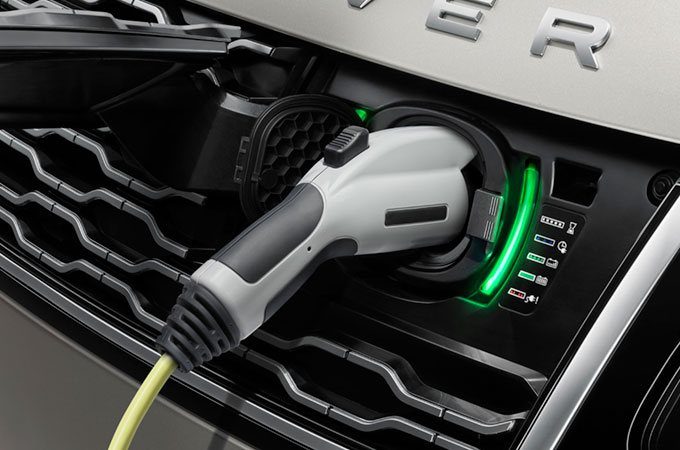 Land Rover SUVs are both rooted in history and at the forefront of exciting new vehicle technology. For generations, the automaker has successfully blended the two creating a heritage and paving the way forward, often while off-roading. These two ideas may seem naturally at odds, but Land Rover engineers prove that modern luxury with a classical touch is, in fact, a great recipe. The latest iteration of this philosophy comes in the form of a new SUV being called the 2019 Land Rover Range Rover P400e.
The 2019 Range Rover P400e is the automaker's first plug-in hybrid SUV, and it looks and feels fantastic. Set to arrive this summer, the hybrid SUV proves that "sustainable luxury" is possible and beneficial.
This latest model benefits from instant torque, thanks to the electric motor while maintaining the classic Land Rover Range Rover looks, feel, and performance. The vehicle is powered by a turbocharged 2.0-liter four-cylinder engine that puts out 296 horsepower combined with a 114-horsepower electric motor powered by a 13.1-kWh lithium-ion battery for a total output of 398 horsepower and 472 lb-ft of torque.
The Land Rover Range Rover P400e features a 7-kW onboard charger that can fully recharge the battery in 7.5 hours once connected to the 10-amp home charging cable. Also, because this is a Land Rover SUV, you can check the battery's status from an app on your phone.
While drivers will have the option to dictate how and where power is coming from manually, an internal system will factor in traffic, road conditions, and more when you plug in a destination to operate at optimum efficiency.
We'll keep you updated here at Land Rover Orlando with more information as the Range Rover P400e gets closer to a release date. Meanwhile, visit us today for all your Land Rover SUV needs.